Jared Kushner is a senior advisor to US President Donald Trump. He used to own a lot of Real Estate and run a publishing company. Jared's father, Charles Kushner, owned "Kushner Companies" before he went to prison for two years. Jared is his son. When Jared took over his dad's business, he was in his early 20s.
He was the CEO of the company and of Observer Media, which is the company that publishes "The New York Observer." After running a successful publishing business, Jared helped start Cadre, an online platform for investing in real estate.
He is married to President Trump's daughter and advisor, Ivanka Trump. Jared Kushner led Trump's media campaign and was in charge of promotions in the media and digital strategy. He ran his political campaign with the best technology from Silicon Valley.
Jared Kushner used the "lean start-up" method to get his name out there. He also used "Google Map APIs" and "Facebook's ad-targeting tools" to find voters and send them ads based on where they lived. Jared did a great job managing Trump's media strategy, and on January 9, 2017, Trump promoted him to senior "White House" advisor.
Childhood & Early Life
Jared Kushner was born in Livingston, New Jersey, on January 10, 1981, to Seryl and Charles Kushner. His father was a builder and owner of a real estate business called "Kushner Companies." His family is modern-orthodox Jewish, and he went to a modern-orthodox school called Franz School. He got good grades and took part in hockey, basketball, and debates.

Jared's younger brother, Joshua, and Nicole and Dara are his sisters. He attended "Harvard University" to study art in 1999.

Daniel Golden, a journalist who won the "Pulitzer Prize," said that Jared was able to go to "Harvard" because of his father's donations and a friendly relationship with the school. A representative for "Kushner Companies" said that the claim was not true.

Jared went to "New York University" after he graduated from "Harvard" in 2003. In 2007, he earned both a JD and an MBA. As an intern, he worked in the office of Robert Morgenthau. Morgenthau worked in Manhattan as a district attorney. "Paul, Weiss, Rifkind, Wharton & Garrison LLP" was another place where he worked.
Early Career
As vice president of "Somerville Building Associates," a branch of his father's business, he bought and sold homes in Somerville, Massachusetts, while he was in college. Before it was shut down in 2005, the division made a profit of $20 million. He then used the money he made from "Somerville Building Associates" to buy "The New York Observer."
Career
Jared Kushner took over the "Kushner Companies" after his father's 2008 arrest and imprisonment for tax fraud, witness tampering, and illegal campaign donations. Not even two years after he graduated from college, he was in charge of a big business and had a lot of responsibility. When Jared took over as CEO of the company, he was ready to deal with all of its debts.
Before becoming the CEO of the company, Jared made headlines when he paid a record $1.8 billion for his Manhattan office building at 666 Fifth Avenue. After selling its retail space to "Stanley Chera" for $1 billion, the company brought in "Vornado Reality Trust" as a 50% equity partner in the building's ownership.
At that point, his company had already lost more than $90 million, which was a strange fact. He's always been close to his dad, and that won't change.
He once said that he didn't want to be an attorney because his father was in jail for two years. Jared Kushner said that when he saw his father's job, he gave up on his dream of becoming a prosecutor.
He felt his father's treatment was unjust, and he vowed he'd never be on the other side where he had to cause such pain to innocent people's loved ones. Still, he kept building the business empire that his father had begun in 1935.
As CEO of his company, he had bought more than 11,000 units in New York, New Jersey, Baltimore, and other nearby cities by 2014. He also owned a $38 million portfolio of three apartment buildings in Maryland with "Aion Partners." In 2015, he paid $295 million for half of the "Times Square Building."
At the same time, he and his brother Joshua and Ryan Williams started an online real estate investment company called Cadre. The company, which is now called "RealCadre LLC," has teamed up with billionaires like George Soros and companies like "Goldman Sachs."

Soros Fund Management gave money to his online business, but Jared didn't say that in his January 2017 disclosure. Jared has been very successful in real estate, just like his father was.

In 2006, Jared bought "The New York Observer," a weekly newspaper in New York City, for $10 million. So, he used the money he had made when he sold land through his business in college.

After getting into publishing, he put out a tabloid version of "The Observer." After he changed the paper to look like this, a lot of people went to the online version of the paper.

But he had never worked as a journalist before. Maybe that's why he didn't get along well with Peter W. Kaplan, who was the editor-in-chief of the newspaper at the time. After a few disagreements, Peter gave up his job.
It was hard for Jared to find a permanent editor, but in 2011 he did. Her name was Elizabeth Spiers. After Elizabeth left in 2012, Ken Kurson was hired as the new editor-in-chief a year later.

People noticed that "The New York Observer" had lost a lot of readers since Kushner took over. But it had made a lot of money during this time because it was always getting traffic. In April 2016, the newspaper backed Donald Trump as a "Republican" candidate for president.

But it stopped endorsing the candidate when the paper decided not to support any presidential candidate. Kushner quit his job as a publisher in January 2017 to work for the US president.

Kushner's job at the newspaper was taken over by Joseph Meyer, who was his brother-in-law.
Even though Kushner was a "Democrat," he decided to lead Trump's digital and social media campaigns and promotions. He got the best people from Silicon Valley to run "Project Alamo."

He took over for Corey Lewandowski, who was Trump's campaign manager and was fired on Kushner's advice. Eric Schmidt, the CEO of Google, said that the best thing about Kushner's work was that he ran his campaign with few or no essential resources at all.

In 2016, Kushner wrote a letter to "The New York Observer" defending Trump when he "tweeted" a meme of Hillary Clinton that said she was very corrupt. Then, people said that Trump was against Jews. Jared wrote that the action wasn't anti-Semitic or racist and that the words had lost all meaning.

After Trump won the presidency in 2016, Kushner became his top advisor. His appointment sparked another controversy when people questioned why Trump put a family member in his office.

The "Department of Justice Office of Legal Counsel" gave an opinion that said, "The President can choose family members to be on his immediate staff of advisors." Kushner quit his job as a publisher and a real estate developer to work for Trump.

On January 22, 2017, he took office. He was tasked with mending fences between the United States and the Middle East. Under his direction, the "White House Office of American Innovation" opened in March of 2017.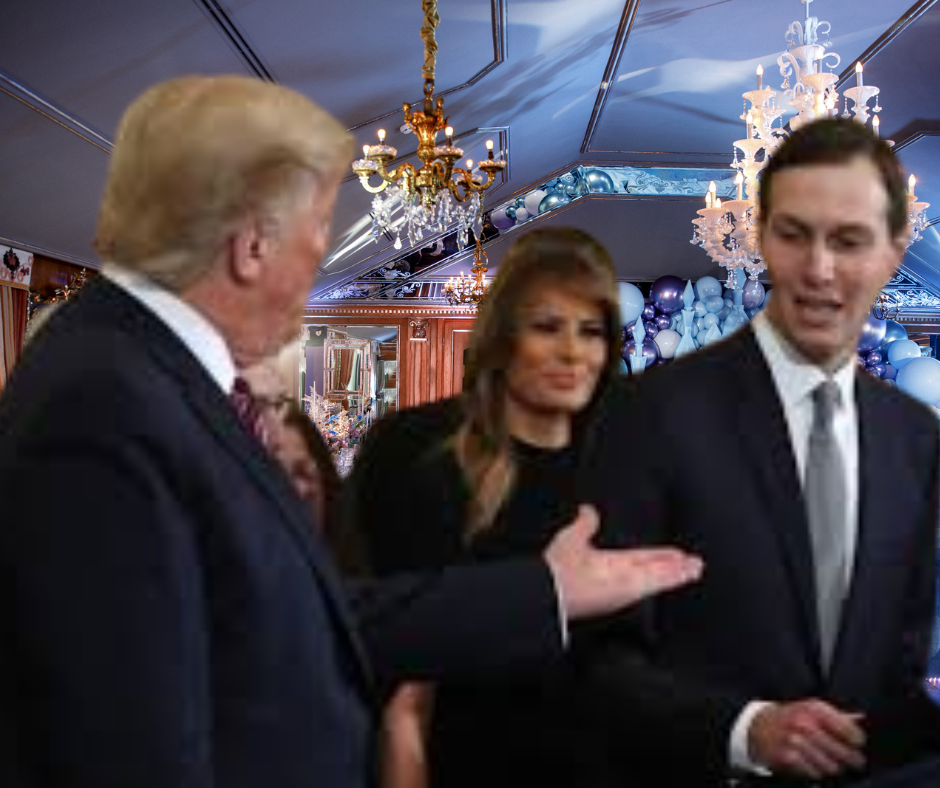 He was in charge of improving the government's work on "veterans affairs," IT contracting, and the opioid crisis, among other things. He was also very important in making the "Formerly Incarcerated Reenter Society Transformed Safely Transitioning Every Person Act" (FIRST STEP Act).

The act was backed by the "House Judiciary Committee" on May 9, 2018. Before he met with the staff of the "Senate Intelligence Committee" on July 24, 2017, he released an 11-page statement to explain his situation with Russian interference in the 2016 elections.

In his statement, he denied very clearly that he had done anything wrong by working with the Russian government. He also said that during his four meetings with Russians, he did not have any improper contact with any Russian committees or people.
In November 2017, investigators from Robert Mueller's office asked Kushner again about Michael Flynn's agreement to plead guilty to lying to the "FBI" as part of a deal that probably included Jared telling Flynn to talk to Russia.
In spite of his repeated involvement in political scandals, he continues to serve as the president's closest adviser.
Awards & Achievements:
A 2017 issue of "Time" titled "The 100 Most Influential People" included him on its list. The actor Henry Kissinger wrote a tribute to the issue.
Family & Personal Life
On October 25, 2009, Kushner married Ivanka Trump, who is the daughter of President Trump. The wedding was Jewish. They have a daughter named Arabella Rose Kushner and two sons named Joseph Frederick Kushner and Theodore James Kushner.