What is a USDA home loan?
As part of its Rural Development Guaranteed Housing Loan program, the U.S. Department of Agriculture backs USDA home loans, which are mortgages.
People with low to average incomes can get USDA loans to buy a home. They offer loans with no down payment, lower mortgage insurance, and mortgage rates that are lower than the market rate.
With a low-interest USDA mortgage, you can buy a house or refinance the one you already own.
In short, USDA home loans make it possible for people who thought they could only rent to buy their own homes.
USDA loan requirements
The rules for getting USDA home loans to depend on the buyer and the property.
First, the home must be in a rural area that qualifies. The USDA defines a rural area as one with less than 20,000 people.
Second, the buyer's monthly income must be below the USDA's limits. To be eligible, your income can't be more than 15% above the median income in your area. You must also live in the house as your main home (no vacation homes or investment properties allowed).
Lastly, borrowers must meet the basic financial requirements of the lender, such as:
Income eligibility: Tax returns must show that the person has a steady job and a monthly income.
Credit requirements: At least 640 on the FICO score (though this can vary by lender)
Existing debt ratio: Generally, the debt-to-income ratio should be 41% or less.
You can use the USDA's eligibility maps to find out if the property you want to buy is in a rural area that is eligible for a loan and if you fall inside the local income restrictions.
How do USDA home loan rates compare to FHA and conventional rates?
When compared to other home loan programs, the interest rates for USDA mortgages are some of the lowest.
Most of the time, only the VA loan, which is only for veterans, has rates that are the same as the USDA. These two programs, USDA and VA, can offer lower interest rates than the market because they are backed by the government.
Other mortgage programs, such as the FHA loan and the conventional loan, can have rates that are on average 0.5% to 0.75% higher than the USDA rates.
Still, mortgage rates are different for each person. If you get a USDA home loan, it doesn't mean that your rate will be "below market" or match the advertised USDA home loan rates.
To get the best rate and lowest monthly payments, you need a high credit score and a low debt-to-income ratio. A bigger down payment also helps.
You should also talk to more than one USDA mortgage lender.
Each USDA lender sets rates differently, so comparing rates from many companies is necessary.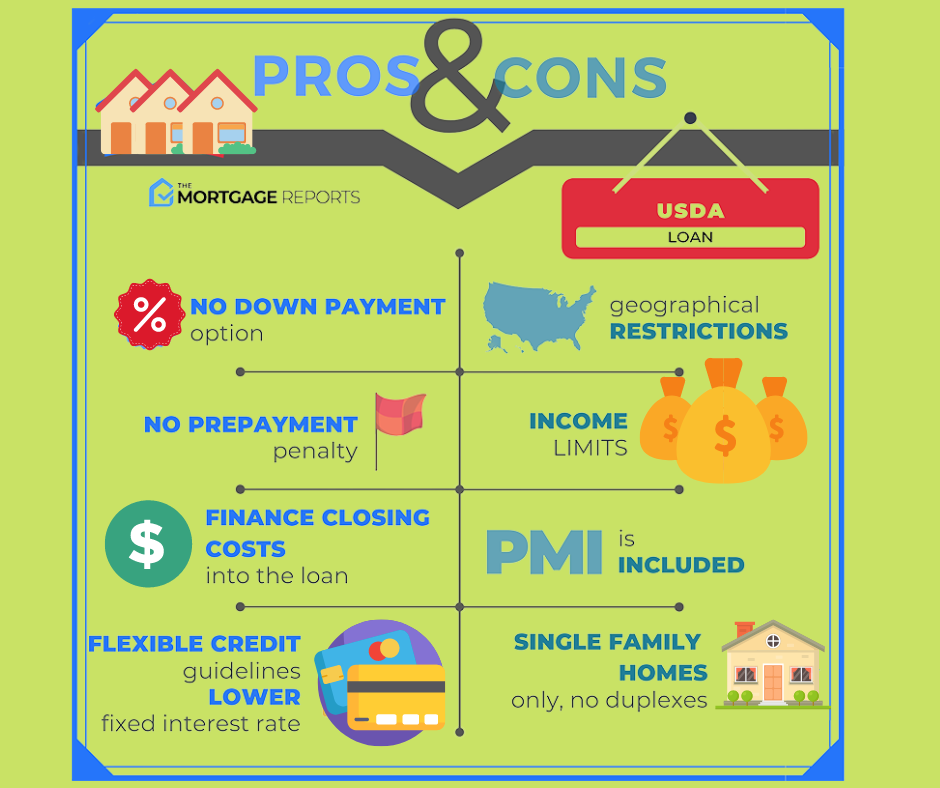 How USDA loans are granted
With a USDA loan, buyers can finance the entire cost of home while getting better-than-average mortgage rates. This is because, compared to other low-down-payment loans, USDA mortgage rates are lower.
Other than that, USDA loans aren't that different from other types of home loans.
The payment plan has no "balloon," closing charges, or prepayment penalties.
USDA home loans are different in two ways: the type of loan and the amount of the down payment.
With USDA home loans, there is no down payment required. This is one of only two big loan programs that don't require any money down.
You have to get a fixed-rate loan if you want to use the USDA loan program. The USDA rural loan program does not offer loans with variable interest rates.
Anyone who wants to buy a home in a rural area can use a rural loan. To use the USDA program, you don't need to get help from a counselor.
USDA loans require mortgage insurance (MI)
USDA backs its mortgage loans, which means it protects mortgage lenders in case USDA borrowers don't pay back their loans. But the program pays for some of itself.
The USDA home loans charge mortgage insurance premiums that the borrower pays in order to keep this loan program going.
As of October 1, 2016, both the up-front and annual guarantee fees for USDA mortgage insurance have gone down.
These are the current rates for USDA mortgage insurance:
A guarantee fee of 1% of the loan amount is charged upfront for purchases.
For refinancing, a guarantee fee of 1% of the loan amount is due upfront.
Every loan is subject to a 0.35% guarantee fee based on the remaining principal balance.
As a real-life example: A buyer who takes out a $100,000 loan would have to pay $1,000 upfront for mortgage insurance and $29.17 a month for annual mortgage insurance.
The USDA does not pay mortgage insurance upfront in cash. It is added to the amount owed, allowing you to pay it off over time.
The rates for FHA and conventional loans are higher than those for USDA loans.
There is an upfront mortgage insurance premium of 1.75 percent and an annual mortgage insurance premium (MIP) of 0.85 percent.
Private mortgage insurance (PMI) premiums on conventional loans vary depending on your debt-to-income ratio (DTI), credit score, and other factors, but they can be more than 1% per year.
With USDA-guaranteed loans, the mortgage insurance premiums are a small fraction of what you'd usually pay. Even better, the rates on USDA loans are low.
Most of the time, FHA mortgage rates, VA mortgage rates, and conventional loan mortgage rates are higher than USDA mortgage rates. This is especially true when buyers make a small or minimum down payment.
For a buyer with an average credit score, the rates for a USDA mortgage can be 100 basis points (1%) or lower than the rates for a similar conventional loan.
Lower rates mean that your monthly mortgage payment will be less, so USDA loans can be very affordable.
About the Rural Housing Loan from the USDA
The full name of the USDA Single Family Housing Guaranteed Loan Program is the USDA Single Family Housing Guaranteed Loan Program. The program is more often called a USDA loan, though.
Section 502(h) of the Housing Act of 1949 authorizes the Rural Development loan program.
Rural Housing Loan from the USDA program helps low-income, "rural," and low-population areas acquire single-family houses.
That might sound like a lot of rules. However, USDA home loans are available to 97 percent of the population in the United States. This includes many suburbs near big cities. A rural area can be any place with 20,000 people or less, or 35,000 people or less in some cases.
Even people who are eligible for a USDA loan don't know much about this program or haven't heard of it.
The USDA home loans program didn't start until the 1990s, so this is why. It was only recently that it was updated and changed in order to appeal to buyers in rural and suburban areas across the country.
Many USDA-approved lenders do not even feature the USDA loan on their lending menu. But a lot of places do.
So, if you think you qualify for USDA home loans with no down payment, you should ask the lenders on your shortlist if they offer this program.
if you fall within the local income restrictions.